Boy! What a fun weekend I had!

Besides chewing on everything in sight when Mommy was trying to paint the upstairs hallway, I've also been going for rides in her Jeep!
No, I haven't learned how to drive... yet. Mommy's been driving me. I'm still a little scared, but I love it!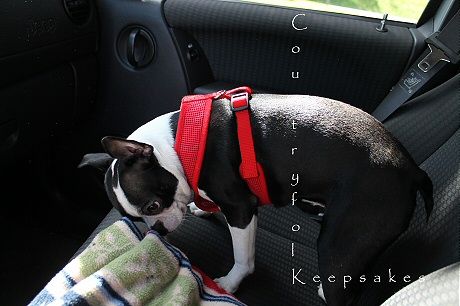 I sit on her lap and look out the window. But I jump every time a car goes past us from the other direction. (That's the scary part)

I still need to get my sea legs too. All that moving makes me wobbly.

You want to know what my favorite part is?!
Okay, I'll tell you!
My favorite part is when we go past the dairy farms
because I love the smell of cow poop!
Mommy on the other hand doesn't love it. I know! Crazy, right?! Cow poop is awesome! I'd dab a little behind my ears if I could.

Anyway, I've got more good news! Well, I'm not 100% sure, but I overheard Mommy and Daddy talking about having an area bulldozed for me to play in. So that means no fence and I would still have a big place to play in!! Isn't that swell??!!

Daddy's bulldozer friend is supposed to come by sometime this week so we'll have to see what happens. I'll keep my paws crossed for sure.

Okay, I've got to go now. Gracie is waiting for me to bark in her face.

See ya!!